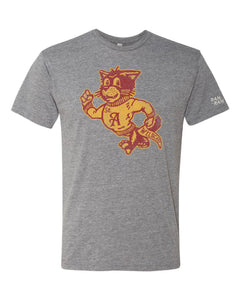 NOTE: This is a leftover item from last year, so not part of this preorder. Apologies if your size is "sold out". We plan on bringing this back in the future, thanks!
Our super-soft tee, with our custom collegiate-style block design, is your new go-to t-shirt.
DOUBLE CHECK SIZES please and reach out with any questions! We cannot offer returns or exchanges since this is a preorder. Thanks!
DETAILS
Unisex size
Triblend soft
Athletic, slim fit
SIZE GUIDE 
| | XS | S | M | L | XL | 2XL | 3XL |
| --- | --- | --- | --- | --- | --- | --- | --- |
| Body Length | 26 1/2 | 27 1/2 | 28 1/2 | 29 1/2 | 30 1/2 | 31 1/2 | 32 1/2 |
| Body Length Tolerance | 1/2 | 1/2 | 1/2 | 1/2 | 1/2 | 1/2 | 1/2 |
| Body Width | 16 3/4 | 18 1/4 | 19 3/4 | 21 1/4 | 22 3/4 | 24 3/4 | 26 3/4 |
| Body Width Tolerance | 1/2 | 1/2 | 1/2 | 1/2 | 1/2 | 1/2 | 1/2 |