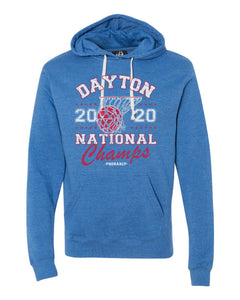 Softest hoodie you've ever laid your hands on, with a one-of-a-kind custom design for the GREATEST team in the nation, and what WOULD HAVE been.
Please reach out with any questions or inquiries about your order or gear in the future at rahrahgear@gmail.com. Or on social media (@rahrahwear). Thanks! WE ARE UD!
---
Hey, Flyer Nation!

I did not realize our little joke t-shirt was actually infringing upon the University's IP and not within their guidelines, and do not wish to upset them in any way. We've been in touch and I'm 100% in agreement to remove this product from our lineup. They are super cool—I love my University of Dayton as do all of you, and there might be opportunities in the future for officially licensed Dayton Flyers items. Thanks for having fun with us during this weird time! And appreciate the interest from all of you! Stay safe and be proUD of what we accomplished this season. Please follow of us on social media for the latest updates in the future. @rahrahwear on Facebook and Instagram.
Flyers Forever!