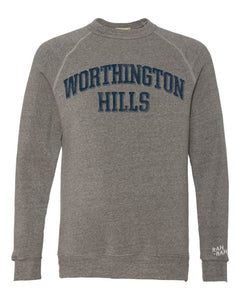 You will own nothing softer than this, guaranteed. The perfect fabric, with the exact amount of fade for retro vibes and you've got a go-to sweatshirt you won't want to take off. And when you do, someone in the house is going to steal it. 
DOUBLE CHECK SIZES, please! Some find this to run a little smaller, some feel it's true. Please check the guides and reach out with any questions. We cannot offer returns or exchanges since this is a preorder. Thanks!
----
NOTE: This can run small depending on your height, so please size up if at all in question! DM us on Instagram or Facebook for questions. Thanks.
SIZE GUIDE
| | XS | S | M | L | XL | 2XL | |
| --- | --- | --- | --- | --- | --- | --- | --- |
| Body Length | 26 | 27 | 28 | 29 | 30 | 31 | |
| Body Length Tolerance | 1/2 | 1/2 | 1/2 | 1/2 | 1/2 | 1/2 | |
| Body Width | 18 1/2 | 20 | 21 1/2 | 23 | 24 1/2 | 26 | |
| Body Width Tolerance | 1/2 | 1/2 | 1/2 | 1/2 | 1/2 | 1/2 | |
| Sleeve Length | 30 1/4 | 30 7/8 | 31 1/2 | 32 1/8 | 32 3/4 | 33 3/8 | |